welcome to
Hair Transplant Liverpool
Horton House, Exchange Flags,
Liverpool, L2 3PF
Monday – Friday
9:00am – 8:00pm
Saturday & Sunday
09:00am – 05:00pm
Welcome to
HTL Part of Harley Street Hair Transplant Clinics
Are you experiencing hair loss? If yes, you are in the right place. We can help you bring your hair back to its natural glory.
At our Liverpool hair transplant clinic, we offer the most up to date in hair transplantation procedures to our clients. All our clinics are CQC registered and all our surgeons are on the GMC register for your peace of mind.
For a Free Consultation please click on this link or provide us a telephone call on 0151 388 3118.
If you have:
Suffered with a lack of confidence or low self esteem
Suffered with hair loss or hair thinning
Then you are not alone. Around 6.5 million people in Liverpool and the UK suffer from:
Alopecia Areata and other types of Alopecia
Male and Female Pattern Baldness
Other similar conditions
Client Before and After Images
Hair Transplant Procedures & types
Hair Transplant
Read more about the hair transplant procedure, the methodology and the results
Beard Transplant
Read more about the beard transplant procedure, the methodology and the results
Eyebrow Transplant
Read more about the eyebrow transplant procedure, the methodology and the results
DHI Transplant
Read more about the DHI transplant, the methodology and the results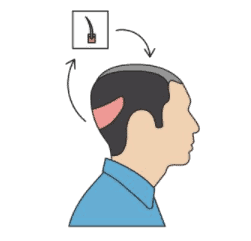 FUE Transplant
Read more about the hair FUE method and the results
FUT Transplant
Read more about the hair FUT method and the results
Our services
What Type of Hair Transplant Do We Do?
We mostly use 3 hair transplant treatments. They are:
The majority of our hair transplants are performed using the FUE (follicular unit extraction) method as this is the latest, best and most pain free method of hair restoration surgery. If you would like to find out about which hair transplant technique is the one that suits your needs, please visit our hair transplant general page to read more information and make your choice. Simply fill out the form provided on the page or click on the phone number provided to submit your details for a free consultation.
Interesting Facts & Figures
In a recent article from the BBC on Hair Transplant, the following was said:
"By age 30, approximately 25-30% of men will have some baldness, researchers believe. Half of all men suffer significant hair loss by the age of 50."
This means that hair loss is in fact quite common and that you are not alone.
According to Wikipedia:
"More than 95% of hair thinning in men is male pattern hair loss (also known as male pattern baldness)."
"The incidence of pattern baldness varies from population to population and is based on genetic background. Environmental factors do not seem to affect this type of baldness greatly."
You are born with hair and go through most of your developmental and adult life having hair and for it to then all of a sudden fall out has quite a large psychological impact on someone. This leads to stress levels rising and confidence levels falling which isn't a good combination for the mental health and wellbeing of that individual.
This is why we exist. We want to help as many of our clients with both the physical and psychological sides of hair loss as well as helping as much as we can with the financial side by providing 0% interest free finance over 12 months.
Latest Google Reviews
Thoroughly recommend anybody considering having a hair transplant procedure to use Hair Transplant Liverpool based on my excellent experience with them. Had a brilliant consultation with Kevin who talked through the procedure and calmed my fears and nerves about the treatment. Big thanks to Dr. Nayak and his team for the professionalism and care given to me at the surgery and from then on. It's been 5 months since I had the procedure and I couldn't be any happier with the results.
Dean Rolstone


January 12, 2020
I have been for hair transplant consultation with Kevin in Liverpool and I am please by his honest opinion and professional approach and expertise. highly recommended.
iraj ebra


January 17, 2020